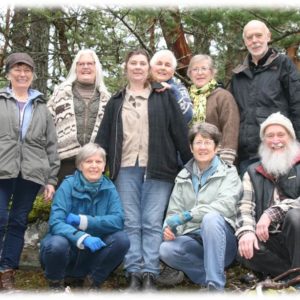 We are thrilled to be co-covenant holders of 21 hectares of sensitive ecosystem and bat habitat on Moore Hill, Thetis Island!
Moore Hill forms one of the highest peaks on Thetis Island and contains a rich mix of habitat types. The hill features sandstone cliffs and in places the cliffs have fractured into huge blocks, tumbling together to form caves that provide habitat for bats. Huge first growth Douglas-fir trees rise from the cliffs on the west side of the hill, and in small grassy openings, camas, fritillaries and other wildflowers grow amongst the Garry oaks and arbutus. The eastern slope is a second growth Douglas-fir forest, with an understory mosaic of mosses and ferns. This hill is culturally significant to the Penelakut First Nations people.
The Island Trust Conservancy holds title, with the purchase made possible thanks to the conservation vision of the previous land steward, the  incredibly generous support of a local donor family and a grant from the federal Habitat Stewardship Program for Species at Risk.
This nature reserve is not open to the public due to safety considerations and sensitive habitat
Read more about the project here!